Hey the semester is almost over! Whether you are a student working on a final paper, or a professor about to read one (or twenty), you might want to check out Word's improved Editor Tools.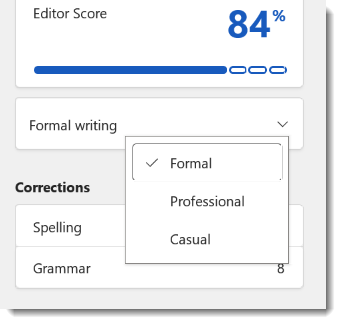 About Office 365
You will need Office 365 to have this feature, and even within 365 there are various update schedules, so the feature may look a little different.
Here is a hack: if your desktop application of Word does not have the Editor tool, or it is pared down from what I show you below, try uploading the document to OneDrive and opening it in your browser, or if you can alternatively upload the document to Teams and open within the Teams application to see the full feature.
Editor
You can find the Editor tool on the right side of the Home tab and on the Review Tab.

When you select the Editor, a menu will appear on the right side of your document.
In addition to the old Spelling and Grammar checks that you know and love, there are a ton of new goodies to help you refine your document. Scroll down to look at refinement suggestions, like Clarity and Formality.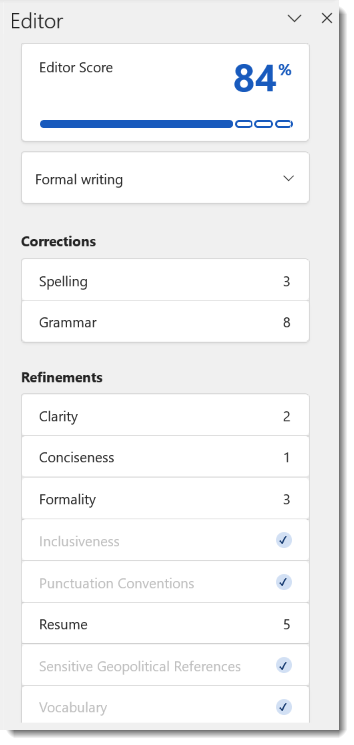 Speaking of Formality, you can set the level of writing to Formal, Professional, or Casual, to see varying suggestions.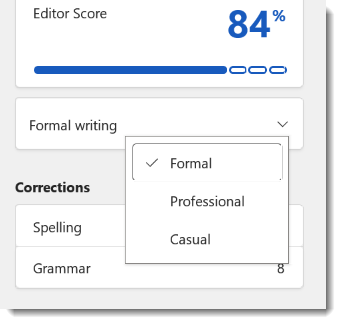 Details and Settings
Select the suggested Refinements to see further explanations and choose to change or ignore the suggestions.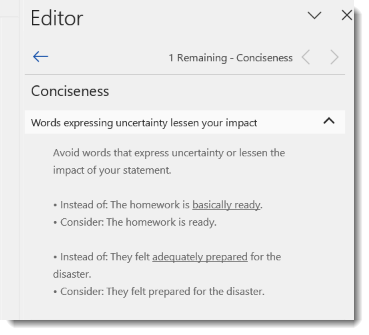 While reviewing refinements, you can also change Settings and ask Word to check (or not check) for specific Refinements.
Check for Similarities to Online Sources
There is a new ability to check the similarity between a Word document and content on the web.
In the Editor pane, scroll down to the Similarity section. Select Check for similarity to online sources.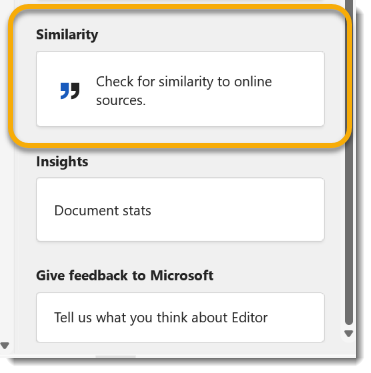 The document below, for instance, has some potentially problematic text.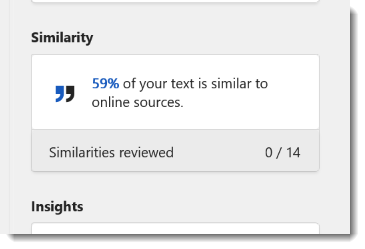 Review the similarities to see where Microsoft has found similar content online.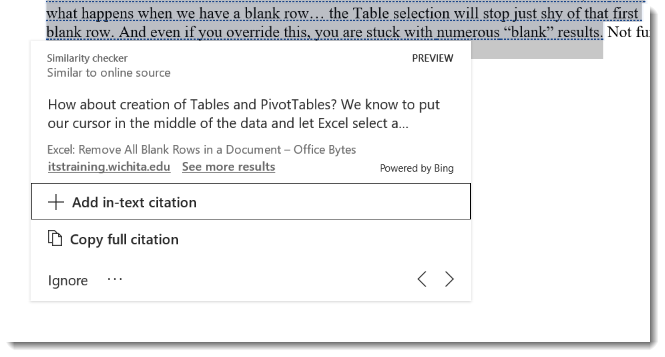 Document Stats
One more feature worth mentioning in the Editor tool is Document Stats.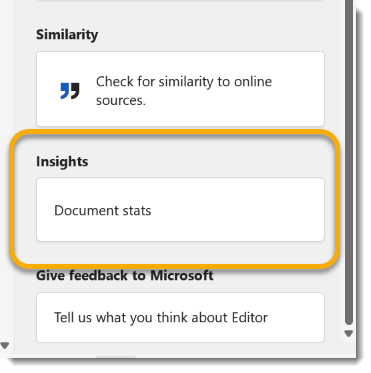 Take a look at the Document Stats to see Readability Statistics, like counts, averages, reading grade level, passive sentences, and Flesch Reading Ease.

Thoughts?
Are you planning to use the new and improved Editor tools? I would love to hear from you! By the way, this is a feature you will want to keep an eye on; there will be more to come in future updates. Until then, have a fantastic end of semester, and happy writing!